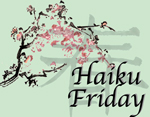 A little poem
Five, seven and five is all
Come and play with us?
Admit it – it's hard to come up with a long post right before the weekend. So join Jennifer from Playgroups Are No Place For Children and I for Haiku Friday and exercise your writing talents with a simple poem.
The rules are simple. Include at least one haiku in a post on a Friday, and link back to this post (you can use the button below if you'd like). Feel free to elaborate on your haiku, or write several haiku to tell a story. Just have fun!
For those who don't know, a haiku is a short poem written in three lines. The first line has five syllables, the second has seven syllables, and the third has five syllables. Easy, right?
Once you've written it, be sure to sign the Mr Linky so others can come find your haiku! You can find the Mr Linky each week on the current Friday haiku that Jennifer and I post. And go ahead and use our button, too. Here's the code:
[a href="http://amommystory.blogspot.com/2007/09/haiku-fridays.html"][img src="http://farm2.static.flickr.com/1047/1338959961_a93cf33414_o.jpg" alt="Haiku Friday" height="117" width="150"] [/a]
(Replace these [ ] with these to make the button appear.)
Click here for the haiku for this week (July 17).